Bank transfer:
A form of payment for customers who prefer to log into an online bank, visit a bank outlet or post office. After booking the ordered goods, the customer receives an e-mail with the bank account number to which the correct amount should be transferred. Once the payment is credited to the bank account, the order is transferred to the warehouse for shipment preparation.
TPay online payments:
Tpay ensures the highest safety standards confirmed by recognized certificates. and guarantee of fast online purchases! It has an extended license of the Polish Financial Supervision Authority, which guarantees transaction security. As the first in Poland and one of the first in Europe, he implemented "Click and pay with Visa", Google Pay, he is the author of the One Click Widget and supports e-commerce in promoting BLIK. The range of payment methods it offers makes the work of thousands of e-shops easier, and guarantees you safe and convenient online shopping.
Payment methods:
- online transfers (wide selection of banks)
- BLIK, GooglePay payments, "pay with Visa / MasterPass"
- tpay installments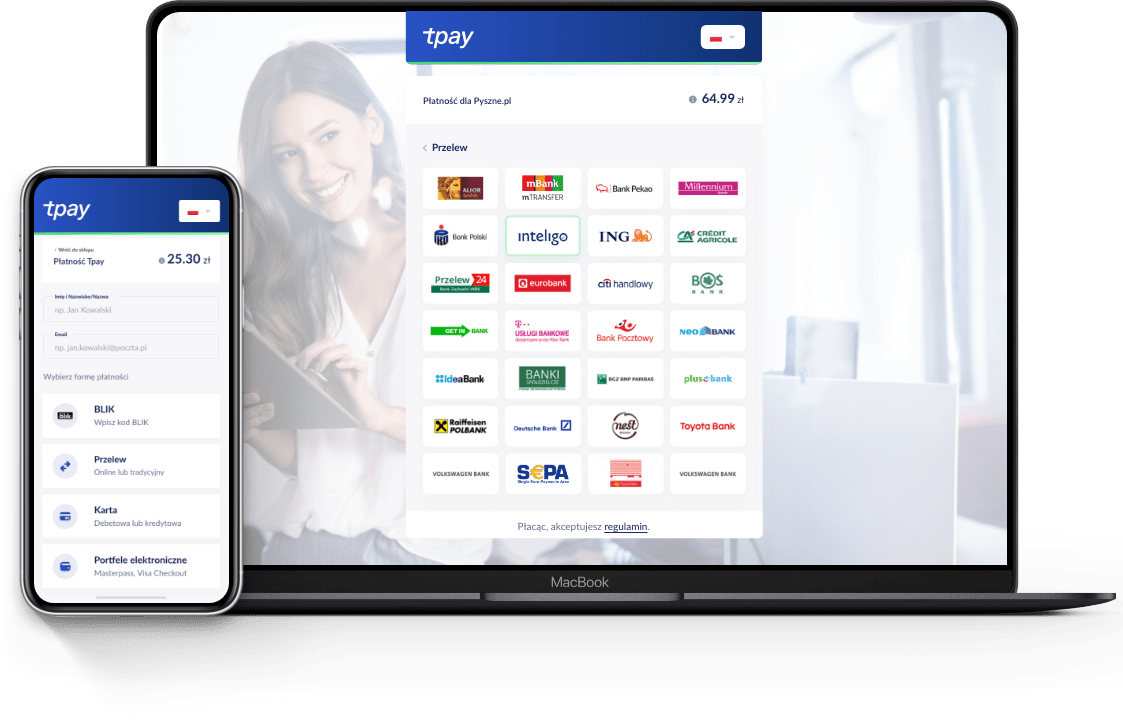 Payment security is ensured by:
- PCI DSS Level 1 certification - Krajowy Integrator Płatności S.A. has been PCI DSS certified at the highest possible level since 2012: Level 1 for Service Providers. This certificate confirms compliance with the strict standards required by VISA and MasterCard payment institutions to deliver card payments.
- Status of the National Payment Institution - Krajowy Integrator Płatności S.A. has the status of a National Payment Institution and is subject to the supervision of the Polish Financial Supervision Authority. The status of the National Payment Institution confirms the provision of the highest quality services and the highest security standards provided by Krajowy Integrator Płatności S.A. Obtaining the status is associated with meeting stringent requirements and is a guarantee of satisfaction with the transactions made.
- Protection of accumulated funds - Security of deposits and funds accumulated on Tpay is a key issue in our system. All payments to Tpay accounts are credited to the appropriate Recipients. After collecting the appropriate amount of funds, the payments are transferred to the Recipient's bank account. The account to which the payments are transferred is permanent and for security reasons it cannot be changed in the account settings.