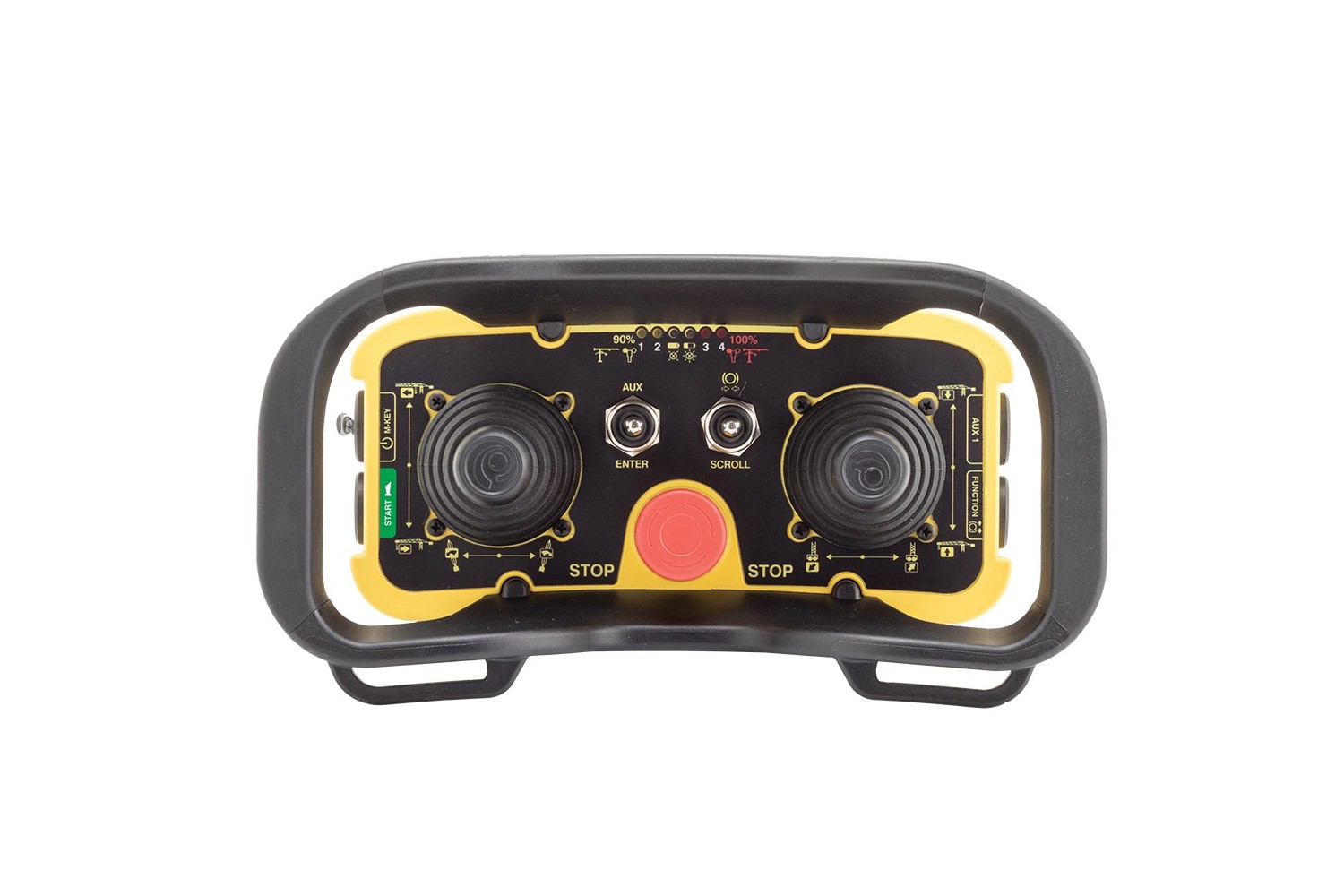  
Radio remote control Autec Compact AJC/ ACRM15
AUTEC is an Italian manufacturer of wireless control devices with accessible safety functions for the remote control of mobile or stationary machines for countless applications in the construction, industrial, transhipment and intralogistics industries.
1. Autec COMPACT is a powerful and customizable joystick transmitter that can be used to remotely control tower cranes, gantry cranes, hydraulic machinery and countless other mobile applications. It is distinguished by its small size, which facilitates its use. The transmitter's top and side spaces are designed to give the user complete control and flexibility. With your hands on the comfortable rubber headband, proportional and digital controls are at your fingertips, and data transfer is always available.
The feedback gives the user important information about the machine condition on the customizable 2.8 "TFT LCD color graphic display or 32 LEDs. In this way, it can transmit machine operating parameters and information, as well as much larger radio control transmitters. The side buttons are flush with the surface and have a large actuation surface, which ensures good protection of the remote control and comfortable use by the operator.
There is also a power switch on the side of the device - the magnetic M-key or 0-1 STOP key identification code can be conveniently located on the top of the device or on the side at the bottom. Powerful, configurable, dual-band radio with fully automatic open frequency search in FHSS (frequency Hopping Spread Spectrum Mode) ensures total reliability of the radio connection, as well as customization of the graphic panel with the logo (eg. Adhesive panel branding).
Accessories:
Shoulder strap or hip belt
Removable NiMH or Li-Ion battery and charger
Options:
Wired control
Zero-G sensor
Aluminum panel (for more difficult working conditions)
Infrared sensor
External buzzer
2.8 inch TFT LCD display (240 x 320 pixels, 65,536 colors)
32 LEDs
Removable mechanical key (if no key ID 0-1)
Actuators
Potentiometer
Rotary switch
Selection lever
Pull-up switch
Side button
2. Receiver ACRM15 - Powered by AC. With 14 programmable relays + START and STOP, standard internal antenna or optional external antenna, 4 feedback inputs. For the programmable relay, there are 2 board expansion slots, analog voltage / current boards, digital and / or analog input cards, variable resistance output cards. Synchronization of boards between receivers (Synchro), RS-232/485 /. CANopen / Profibus DP serial communication port tables.
Data sheet
Manufacturer of radio control

Autec

Machine manufacturer

Palfinger

Destiny

Cranes HDS
Gantry